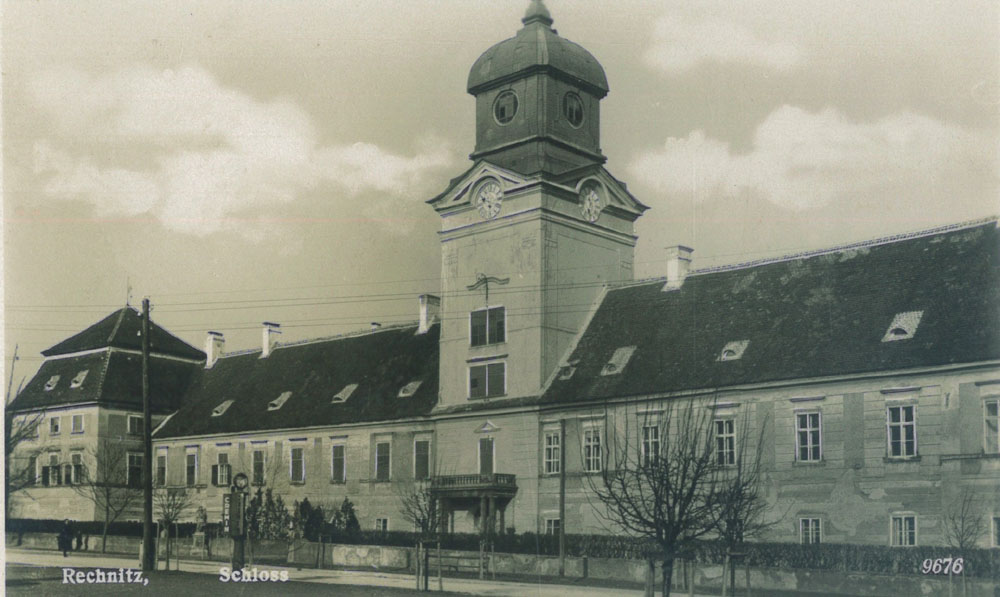 Castle Batthyány before 1938 (Source: Gemeindearchiv Rechnitz)


The Batthyány family, Hungarian aristocrats, ruled over the fiefdom of Rechnitz from 1527 to 1871. They significantly influenced the market town's development through their religious, settlement and economic policies. In the middle 17th century Adam Batthyány ordered the building of a castle with 200 rooms to replace the old Roman fort.
In a document from before 1527 (Baumkircher-Urbar), two Jewish families named Spiegel and Grünwald were mentioned in connection with the fiefdom of Rechnitz.
In the 17th century, the Jewish community was established under the protection of the ruling Batthyánys. 'Letters of safe conduct' regulated the rights and duties of the Jewish subjects right down to the last detail. These letters, which had to be paid for with high protective charges, were renewed on a regular basis. The Revolution of 1848 ended the dependency of the 'Protective Jewry', and the 'Israelites' Law' of 1867 awarded the Jewish population political and civil equality. In 1871, the Batthyánys sold their property to Julius von Szájbely, a lawyer. In 1906, industry magnate Heinrich Baron Thyssen-Bornemisza bought Castle Batthyány. The final 'Lady of the Castle' was his daughter Margit, who married Count Ivan Batthyány.
From autumn 1944, the castle served as the regional head quarter of the Organization Todt, which was in charge of the construction of the 'South-east wall', a military barricade. Jewish forced laborers were billeted in the cellars and stables of the castle. On the night of March 29, 1945, the castle caught fire in the course of the fighting that went on during the town's liberation. After the war the castle was leveled, with only a few walls remaining.