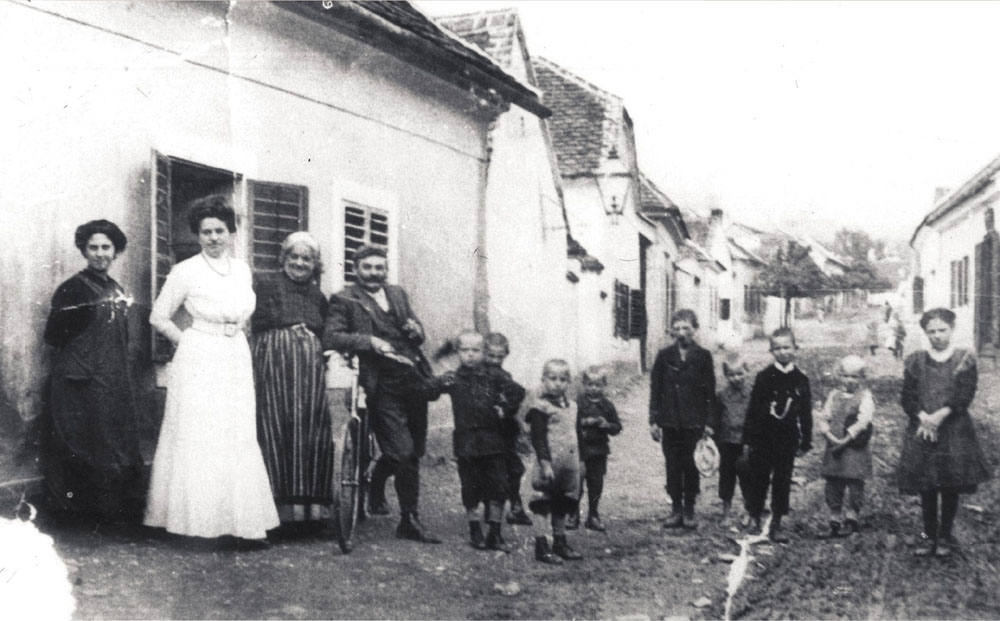 Judengasse around 1910 (Source: Gemeindearchiv Rechnitz)
The Jewish settlements of Southern Burgenland were founded in the early modern period, which is why there are no ghettos. In Rechnitz, the Jewish familiess tended to live in the town center – on the Main Square, in the Herrengasse, Judengasse, Klostergasse and Anzengrubergasse.
Led by Chief Rabbi Meier Zipser, the Jewish Community of Rechnitz joined Reform Judaism. The new liturgical language in the synagogue became German. Liberal ideas also affected everyday life, but Jewish customs and traditions were still adhered to.
On the Sabbath, called 'the long day' in Rechnitz, the stores remained partly open. Almost every family employed at least one adolescent Goj – a non-Jew – as household help.
Until the end of the 19th century, Rechnitz had its own Mazzes bakery (Mazzes is the traditional unleavened bread). There was also a shochet (kosher butcher), who slaughtered animals according to the prescribed Jewish rites.
Many Jews were members of Rechnitz's societies and clubs, often holding executive offices, among others in the town's Beautification Society, the Soccer, Casino and the Social Club. The 'Jewish Ensemble Stern', a music-band, did not only play in Rechnitz, but was well-known and popular in the spa town of Bad Tatzmannsdorf. Social and cultural life was organized through societies: In 1746, a 'Chewra Kadischa' ('Devout Brotherhood') was established, a Burial Society that arranged funerals and the welfare of dependent surviving family members.
In 1933, a local chapter of the Union of Jewish Frontline Soldiers was founded, and, in 1935, a local chapter of the Austrian Zionist Organization.